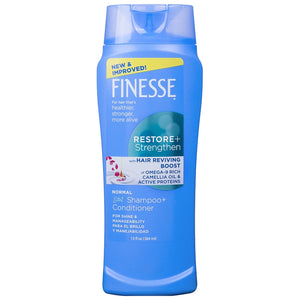 Finesse - Restore + Strengthen Moisturizing - 2 In 1 Shampoo And Conditioner - 13oz
Finesse - Restore + Strengthen Moisturizing - 2 In 1 Shampoo And Conditioner - 13oz
Get hair that's healthier, stronger, and more alive with Finesse. Infused with active proteins that penetrate deep into the hair shaft, Finesse Restore + Strengthen Moisturizing Shampoo leaves hair more moisturized and manageable. It helps restore and strengthen hair that is dry, damaged, frizzy, coarse, or simply stubborn. Hair is left feeling clean and silky soft while being easier to style.
About Finesse Restore + Strength
Finesse Restore + Strength Normal Shampoo, Silk and Soy Protein Enriched. for softer more shiny hair. Maintains natural balance of healthy hair. Adds softness and manageability. Use everyday its gentle enough. Keep healthy hair in tip-top shape. Finesse Enhancing Shampoo cleans away build-up while its silk and soy protein formula restores the cuticle, enhancing your natural softness and shine. Your hair is left feeling healthy and full of bounce.