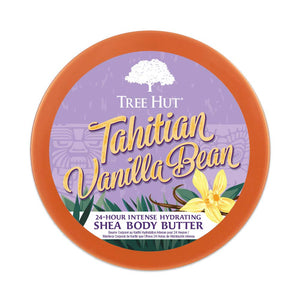 Tree Hut - 24 Hour - Intense Hydrating - Shea Body Butter - Tahitian Vanilla Bean - 7oz,
 Banish extra-dry skin and give it ample hydration with the warm tropic scent Tahitian Vanilla Bean in a 24-Hour Intense Hydrating Shea Body Butter. Made with ultra-rich ingredients like Monoi Oil, Vanilla, Shea Butter and Cocoa Butter to revive and nourish.
This luxurious, hydrator features a rich, buttery formula that is ideal to deeply hydrate dull, extra-dry skin, especially elbows, knees, and heels. It provides long-lasting hydration for up to 24 hours to leave skin feeling soft, smooth and glowing. Monoi Oil features a blend of sun-soaked Tahitian Tiare Flowers in Coconut Oil known to help moisturize and soften skin while also helping to improve skin elasticity. Vanilla is known to calm and soothe skin.
Natural Shea Butter is known to deeply moisturize, nourish and soften dry, skin while helping to promote elasticity. Add an extra helping hand with rich Cocoa Butter that also helps to hydrate, nourish and boost skin elasticity. Leave skin feeling super quenched with long-lasting hydrating and a radiant glow. Tree Hut Tahitian Vanilla Bean 24 Hour Intense Hydrating Shea Body Butter is paraben free, sulfate free, alcohol free, contains no formaldehyde donors, has a rich, buttery formula and long-lasting fragrance.
About this item
Smells like a warm, floral reminiscent of Tahitian sunsets with key notes of Toasted Vanilla, Gardenia and Suede

This luxurious, hydrator features a rich, buttery formula that is ideal to deeply hydrate dull, extra-dry skin, especially elbows, knees, and heels

It provides long-lasting hydration for up to 24 hours to leave skin feeling soft, smooth and glowing

Monoi Oil features a blend of sun-soaked Tahitian Tiare Flowers in Coconut Oil known to help moisturize and soften skin while also helping to improve skin elasticity

Vanilla is known to calm and soothe skin

Natural Shea Butter is known to deeply moisturize, nourish and soften dry, skin while helping to promote elasticity

Rich Cocoa Butter helps to hydrate, nourish and boost skin elasticity

MADE IN THE USA - Proudly made of quality ingredients in the USA
Shipping: Nationwide