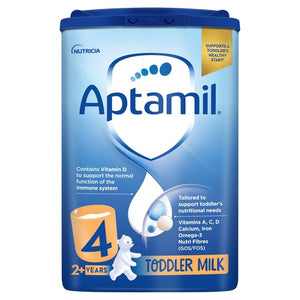 Aptamil®4 - Growing Up Milk - 2+ Year - 800 gm
Aptamil®4 - Growing Up Milk - 2+ Year - 800 gm
Our passionate team of more than 500 scientists and experts have developed our Aptamil® Toddler Milk, inspired by 50 years of research in early life nutrition.

Our formulation contains vitamin D to support the normal function of the immune system and is tailored to support your toddler's nutritional needs from 2+ years.

Aptamil® Toddler Milk is tailored to help meet the increased nutritional needs of toddlers aged 2+ years.