NUK - Baby Monitor Smart Control Multi 310
Tax included.
Spend

Rs.100,000.00

to

FREE SHIPPING
Whether you are at home, at your neighbours or travelling with the NUK Eco Smart Control 300 you can stay close to your child.

One click on the NUK LiveCam Smartphone App shows you what is happening live in your childs room in brilliant video and sound quality. Thanks to the innovative power line technology, data is transferred via the existing power supply lines. That means: no extra radiation from the baby monitor! This means you can stay in contact via the internet any time without any misgivings.

For the protection of your child and for your peace of mind. \n \nThis is the way it works in four very simple steps: \n– Set up the camera in the childs room and plug the cable into a power socket. \n– Download the NUK LiveCam App and install it onto your smartphone. \n– Connect smartphone to the new WLAN and set up your personal encryption. \n– The connection to the camera is established. \n \n100% EMR-free \n \nThe power line communication technology links the camera (babys room) with the help of the LAN adapter, which is supplied, to your internet router/modem (other room) via the power supply lines of your house so no extra electromagnetic radiation around your child \n \nPlug & Play \n \nSimply plug in and start: worldwide access to the camera via your internet router immediately after plugging in and installing the NUK LiveCam App on your smartphone. No extra cabling required.
View full details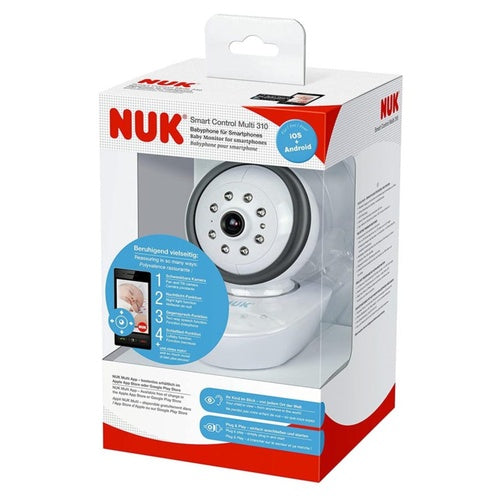 NUK - Baby Monitor Smart Control Multi 310
Were You Interested?
Recently viewed products