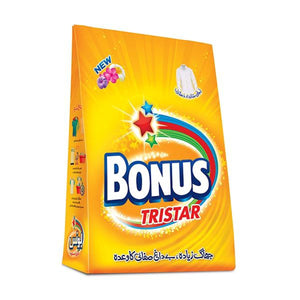 Bonus - Tristar- Washing Powder - Laundry Detergent - 1000g - Pack of 6
Bonus - Tristar- Washing Powder - Laundry Detergent - 1000g - Pack of 6
About Bonus Tristar
Pakistan's no. 1 Selling detergent brand, bonus tristar is a value-for-money laundry product for every household. With the power of red and green speckles, bonus tristar gives effortless, brilliant cleaning and leaves a pleasant fragrance on your clothes.
Bonus Tristar Brand Message
Safaid ho ya rangeen, dhulai hai behtareen !