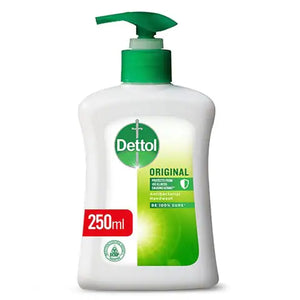 Dettol - Antibacterial Liquid Hand wash - 250 ML - Pack of 6
DETTOL ANTIBACTERIAL LIQUID HANDWASH - ORIGINAL
Germ Protection: Protects from 100 illness causing germs.
Antibacterial formula provides 10x better germ protection for hygienically clean hands
Natural cleansers: Contains more than 85% naturally derived ingredients and plant derived cleansers.
Pump Pack: Place in bathrooms/kitchens | For best results, refill with Dettol handwash refill
Product Features
Kills 99.9% of germs including E.coli and flu virus
pH-balanced liquid hand wash
Skincare Hand Wash
Anti-Bacterial
Recommended by Doctors
Also available in: Skincare Liquid Hand wash 250ML
Dettol Hand Wash - Brand Message
Be 100% sure, protects against germs
Did you know Dettol Skincare Hand Wash kills 99.9% of germs and bacteria?
Using it every day protects hands from germs and helps keep them hygienically clean. Dettol's formula combines Dettol's protection with moisturizers, helping maintain your skin feeling soft and healthy.
Did you know that Dettol Skincare Hand Soap kills 99.9% of germs and bacteria? Using it everyday protects hands from germs while caring for your skin. Enriched with added moisturizers, it will help maintain your skin's natural moisture and softness. Wash hands properly with Dettol and help keep your family healthy.