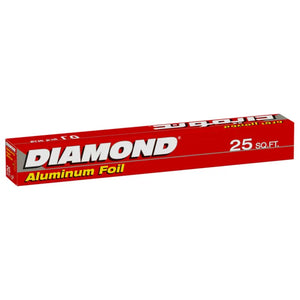 Diamond - Standard Aluminum Foil - 12" - 25sqft
Diamond - Standard Aluminum Foil - 12" - 25sqft
Diamond Aluminum Foil has so many uses! It is ideal for cooking, freezing, wrapping and storing. Diamond Aluminum foil makes a great pan liner - line cookie sheets for fast, no clean-up baking, line baking pans

Product Details:
Boasts exceptional durability to cope with the toughest tasks at your commercial kitchen.

When used for covering a pan in an oven, this wrapping foil helps to reduce the intensity of upper heating and avoid burning a crust on the roast, casserole or pie.

It can be also used as a liner in an oven cavity to catch dripping oil and juices for the ease of cleanup.

Featuring perfect flexibility and humidity resistance, this baking aluminum foil is great for packaging food for storage and transportation.

Suitable for use in a fridge and freezer.