ELEPHANT COOL TEETHER
Tax included.
Spend

Rs.100,000.00

to

FREE SHIPPING
Teething can cause great discomfort to many babies, which is why they need more loving care during this time, and products that make this important development stage easier, offer a distraction as well as accommodating their natural urge to chew. The NUK Cool Teether Set helps in two ways: the massage ring massages the roof of the mouth and the gums while the elephant-shaped cooling ring ensures that any painful spots are soothingly cooled. While chewing, the stimulation of the saliva flow helps prevent tooth decay. Of course, the resilient ring is also great for grasping, learning how things feels and playing. The different materials, colours and surface textures promote learning development. You can also snap the rings into each other. \n \nMaking teething more relaxed: the NUK Cool Teether Set – reaching a new stage of life without any problems. \n \n  \n

\n
Massages the roof of the mouth and the gums for a cool, soothing feeling
\n
Teething rings contain no liquid
\n
Ergonomic shape to reach all around the rows of little teeth
\n
Stimulates the flow of saliva which helps prevent tooth decay
\n
Ages:3-12Month
\n
Made in Germany
\n
View full details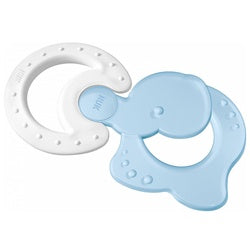 Were You Interested?
Recently viewed products