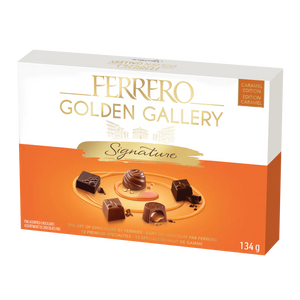 Ferrero - Golden Gallery - Signature - Fine Assorted Chocolates - Caramel Edition Box - 134 gm
Ferrero - Golden Gallery - Signature - Fine Assorted Chocolates - Caramel Edition Box - 134 gm
12 individual chocolate works of art presented in an elegant golden tray within a luxurious gift box, the perfect gift for loved ones

Made from the highest quality ingredients, sure to please even the most discerning chocolate lover.

Extraordinary chocolates – a variety of refined shapes, tastes and textures.

Chocolate works of art, perfect for gatherings or gifting, from the master confectioners of Ferrero.