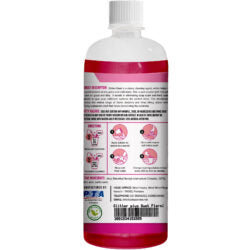 Glo-Flo - Glitter + Quat - Floral - 500 ML
Glo-Flo - Glitter + Quat - Floral
OVERVIEW
Helps in the quick removal of dirt, grime and mild stains.
Best for daily use on cleaning of tiles, shower area and general flooring.
Available in 3 different fragrances.
FEATURES
Safe for use on tile grouts and tile surface shine.
Eliminates soap scum and hard water deposits.
Effectively kills germs, bacteria and other viruses.
APPLICATION
Regular cleaning: 50 ml in 2 ltrs of water.
Tough cleaning: Reduce water dilution.
Rinse the area after with fresh water.