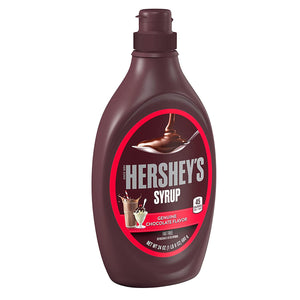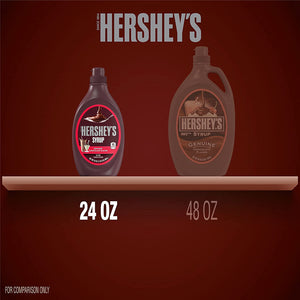 Hersheys Chocolate Syrup - 680g (24 oz)
 Hersheys Chocolate Syrup - 680g (24 oz)
HERSHEY'S chocolate syrup is full of the genuine chocolate flavor you know and love and packed in the classic bottle. Enjoy the sweet and delicious taste of chocolate syrup on everything from cakes to cookies. It is the perfect syrup to add to your milk, hot cocoa and coffee. Try drizzling it over your brownies and cakes or use it to make chocolate floats and sundaes.
No matter what you're making or who is at your gathering, pop open the lid and squeeze, swirl, dot or drizzle the syrup onto some of your favorite drinks and desserts. Squeeze the syrup onto your ice cream sundaes as a tasty topping or stir it into a glass of milk for a classic glass of chocolate milk. The syrup is also a great way to add a little sweetness to your morning coffee.
One 24 oz (680 gm) bottle of HERSHEY'S Chocolate Syrup

Enjoy the classic taste of HERSHEY'S genuine chocolate flavor as an ice cream topping or dessert topping, or use it to make chocolate milk

Packaged in a closeable and squeezable syrup bottle for easy pouring and easy storage

Bake birthday treats, holiday desserts and other homemade recipes with HERSHEY'S syrup

Use this delicious syrup to make cookies and other holiday treats for the whole family really special.