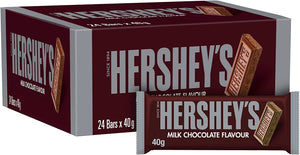 HERSHEY'S Milk Chocolate - Chocolate Bar - 40 GM - 24 Pcs
 HERSHEY'S Milk Chocolate - Chocolate Bar - 40 GM - 24 Pcs
This chocolate bar will give your taste buds a delicious combination of creamy milk chocolate and crunchy roasted almond pieces. The HERSHEY'S milk chocolate bar is perfect for baking, gifting and snacking.
Keep a bar in your pantry for mixing into cookies, brownies or muffins. What doesn't go well with milk chocolate? You can even melt down several blocks to add a chocolaty almond drizzle over fruits.
This HERSHEY'S chocolate milk candy bar makes for a sweet snack during the day or a savory dessert after family dinner. It delivers the much-loved combo of sweet and crunchy.
If you need a birthday or holiday gift for a family member or co-worker, tie a bow around this giant bar to put a smile on their face. If you're not quite ready to give your bar up, break it into pieces to share with your friends!
About this item
Contains one (1) pack of 24 x 40 GM HERSHEY'S Milk Chocolate Bar

Enjoy a scrumptious milk chocolate bar with almonds as a perfect treat to eat straight out of the wrapper or use to make delectable desserts

Enjoy a milk chocolate wrapped for lasting freshness

Perfect for Mother's, Father's and Birthday celebrations along with wedding receptions and graduation parties.