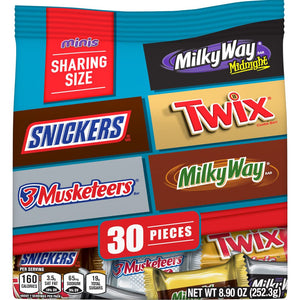 MARS Chocolate Favorites - Minis Size - Candy Bars - Assorted Variety Mix Bag - 30 Pieces
Featuring SNICKERS, TWIX, 3 MUSKETEERS, MILKY WAY Original and MILKY WAY Midnight Candy, this bag of assorted chocolates is a convenient way to make sure you have everyone's favorite candy on hand.
Refill the office candy bowl or bring a bag to your next party with friends or family gathering. There's no wrong way to enjoy a mix of your favorite chocolate candies.
SNICKERS Bars
Satisfy hunger with SNICKERS Chocolate Bars. These milk chocolate candy bars are packed with peanuts, creamy caramel and rich nougat.

TWIX Cookie Bars
TWIX Chocolate Cookie Bars are a one-of-a-kind treat featuring creamy caramel and crunchy cookie cloaked in real milk chocolate.

MILKY WAY Candy Bars
Delight your taste buds with the smooth taste of MILKY WAY Original Milk Chocolate and Midnight Dark Chocolate Bars made with creamy caramel and fluffy nougat.

3 MUSKETEERS Bars
Made with a fluffy, whipped chocolate center and covered in milk chocolate, these full size chocolate bars are a delightful midday treat.

Stock Up and Share Everyone's Favorite Chocolate Flavors.

Mars Mini Chocolate Bars Make the Perfect Office Snack
Mars Mini Chocolate Bars Make are Perfect for Movie Night or Game Night
Mars Mini Chocolate Bars Make are Perfect as Party Favors or on Dessert Tables
Office Candy
Fill the office break room with SNICKERS, TWIX, MILKY WAY and 3 MUSKETEERS Chocolate Bars. Stock up and save the fun for later with bulk bags of individually wrapped minis size candy.
Movie & Game Night
SNICKERS, TWIX, MILKY WAY, and 3 MUSKETEERS Chocolates are great for movie night, game night, and more. These bulk candy variety bags have enough of everyone's favorite chocolate treats to share.
Parties & Dessert Tables
Get the party started with a variety of everyone's favorite candy flavors. Fill piñatas and dessert table candy bowls with minis-size candy for celebrations of all types.