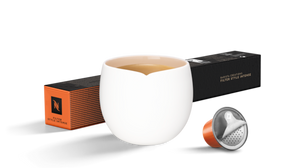 Nespresso - Barista Creations - Filter Style - Intense - Coffee Capsule - Sleeve Of 10
Nespresso - Barista Creations - Filter Style - Intense - Coffee Capsule - Sleeve Of 10
The innovative capsule design of the Filter Style Intense offers a velvety, long cup with a fine crema and intense and irresistible notes of sandalwood and smoke.
NEW: NESPRESSO FILTER STYLE
Do you prefer to start your day with a large cup of coffee in the style of a filter coffee, but don't want to forego incomparable roasted aromas and quality? Then the new Nespresso FILTER STYLE coffees are just right for you.
FILTER STYLE INTENSE is an intense morning coffee with notes of grain and pronounced roasted aromas.
An innovative capsule design enables a filter coffee - a strong, pleasantly sipping cup in the morning. The warming grain and strong roasted notes of the Filter Style Intense stand out under a fine crema. The velvety texture and irresistible taste of sandalwood and a hint of honeyed sweetness balance the bitter, slightly smoky and earthy notes of this long cup.
To prepare, remove the protective film and extract first a lungo and then an espresso.