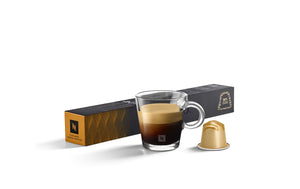 Nespresso - Caramel Crème Brulee - Coffee Capsule - Sleeve Of 10
Caramel Creme Brulee
Go ahead and dream a little. We did. The warming flavour of caramel softens the roasted notes of our most rounded and smooth espresso. Creamy notes of caramel, coconut and vanilla dance through BARISTA CREATIONS Caramel Crème Brûlée.
The base blend for this Nespresso flavoured coffee consists of some of South America's finest Arabicas. We blended Brazilian Bourbon beans with washed Colombian coffee and split roasted them to bring them into beautiful harmony. The roast really develops that smooth texture and rounded mouthfeel. It's into that harmony that we add the caramel flavour to bring this treat to the next level.
Try BARISTA CREATIONS Caramel Crème Brûlée as a cappuccino – it's exceptionally creamy and brings out those notes of vanilla and coconut.