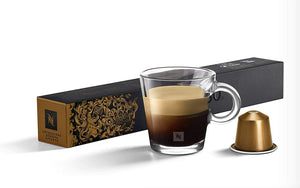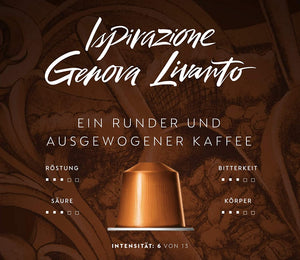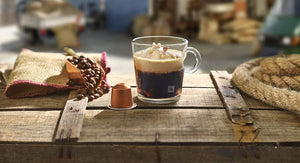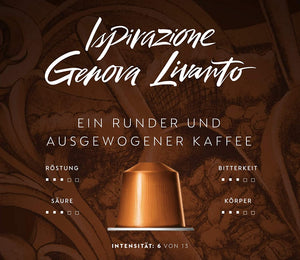 Nespresso - Ispirazione - Genova Livanto- Coffee Capsule - Sleeve Of 10
Nespresso - Ispirazione - Genova Livanto- Coffee Capsule - Sleeve Of 10
Genova's gateway to the world has welcomed some of the finest Latin American Arabicas to create this sweet medium roast. Now you're invited to have a taste.
Honoring Genova's history of explorers, medium roasted Latin American Arabicas balance treasured flavors and sing to you with a sweet caramel note. 
From this important trading city, sailors navigated the globe in the quest of discovering a myriad of aromas and flavors. Latin American coffees were among the treasures they brought back from their explorations. Ispirazione Genova Livanto's medium roast brings together in beautiful balance all the rounded flavors of Brazilian, Colombian and Guatemalan coffees, crowned by their classic sweet caramel note.
AROMATIC PROFILE: THE HARMONIOUS BOUQUET WILL REMIND YOU OF COFFEE BEANS FRESH OUT OF THE ROASTER - IT'S THAT CARAMELIZED, TOASTED CEREAL FRAGRANCE WE ALL FIND SO REASSURING