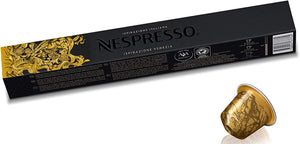 Nespresso - Ispirazione - Venezia - Coffee Capsule - Sleeve Of 10
Nespresso - Ispirazione - Venezia - Coffee Capsule - Sleeve Of 10
Balanced & Thick
Unsurprisingly, this long roast wasn't discovered overnight. But rather inspired by Italy's longest roasting traditions that have been passed down through generations.
HARMONEOUSLY BALANCED & THICK-BODIED
Bridging the Ottoman Empire to Western Europe, Venice has a long history of importing the world's coffees and expertly roasting them to balance their diversity. The muse for our cup: delicately aromatic, all elements balanced harmoniously, caramel notes and thick body.
AROMATIC PROFILE: HARMONIOUS BALANCE OF ELEMENTS, WITH A DELICATE ACIDITY, CARAMEL NOTES AND A HINT OF BITTERNESS
BEST SERVED AS