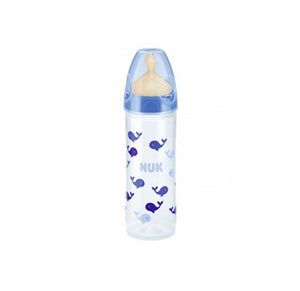 NUK CLASSIC FEEDING BOTTLE 250ML LATEX
NUK Classic PP bottle 250ml with First Choice Plus latex knife for milk, size 2 (6-18 months) Medium hole for mix.
\n
\nNUK New Classic is the first NUK bottle with a narrow body and a wide bottle neck. This bottle combines the best of two bottles and at the same time delights in elegant designs.
\n
\nThe new NUK New Classic bottle is easy to use, it can be easily held in your hand and, due to the narrow shape, it takes less space. Another advantage: it fits with virtually all food heaters.
\n
\nA wide bottle neck allows you to use First Choice + Toddlers. It is also easier to refill the bottle without disturbing it, and it's easier to wash it.