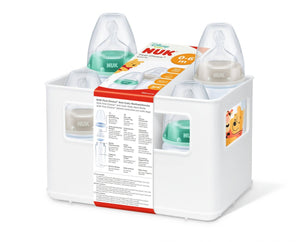 NUK DISNEY WINNIE THE POOH FIRST CHOICE+ STARTER SET
With the high-quality Winnie the Pooh First Choice + Starter Set by NUK, new parents are provided with a super practical starter set perfect for a trouble-free start with their baby.
\n
\nThe NUK First Choice+ teat is modelled on a mother's breast while breastfeeding and provides enough space for your baby's tongue and jaw for natural suction motions. Due to the soft zone, the silicone tip adapts better to the palate and thus provides a natural feeling when drinking from it. Thanks to the tried and tested Anti-Colic Air System, your baby can enjoy drinking without swallowing air.
\n
\nThe NUK First Choice+ baby bottles are made of polypropylene and are free from Bisphenol A (BPA). The extra-wide bottle neck makes both filling and the cleaning the bottles super easy. Thanks to the slightly waisted shape, the bottles are easy to hold and, thanks to the wide bottom of the bottle, they also have a firm stand.
\n
\nThe practical NUK bottle box made of resilient, high-quality material is suitable for up to six NUK First Choice wide-neck bottles or conventional baby bottles. It is also suitable as a drying aid after cleaning or for organising and storing.
\n
\nAnother highlight is the cute Winnie the Pooh motifs which delight parents and children all around the world.
\n
\nTried and tested quality – Made in Germany!