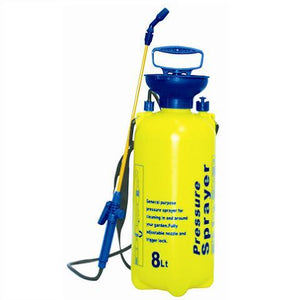 Pressure Sprayer Pump – 8 Liter
Water Spray Pressure Type 8 Liter Bottles with Shoulder Strap for Garden Tools and Multi-Purpose Use.
Fully adjustable wand nozzle from spray to mist, lockable trigger mechanism and water flow regulator.
Built in safety feature- Pressure Release Value.
Pump action pressure sprayer with pressure release valve and shoulder strap
Specification:
Capacity: 8 Liter

Material: 100% new PE high quality material
Lance: Stainless steel lance
Usage: For Farm, Garden, Agricultural, Pest Management at Home. Use with water and non-viscous water based or soluble products including pesticides, herbicides, insecticides, fungicides, fertilizers.
Accessories: All Standard Accessories included