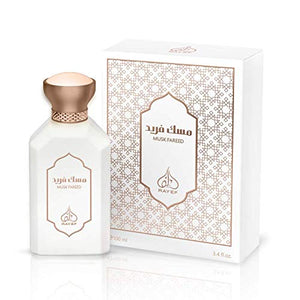 Rayef - Musk - Fareed - EDP (Eau De Parfum) - 100ML (100% Original)
Rayef - Musk - Fareed - EDP (Eau De Parfum) - 100ML (100% Original)
Long Lasting RAYEF Oriental Fragrance Eau De Perfum will keep you feeling fresh all day long. Suitable for use by both Men & Women. Imported directly from UAE.
RAYEF Musk Fareed is a blend of Sweet, Amber & Musky Fragrance promising a warm aroma mixed with sweet and musky notes. It is a pleasing fragrance that's suitable for both indoor and outdoor occasions.
For a Premium Luxury and Long Lasting 100ml perfume for Men & Women, choose Rayef.
Product Details
Quantity: 100 ml

Ideal For: Men & Women

Fragrance Classification: Eau de Parfum

Fragrance Family: Oriental

Fragrance Segment: Luxury
Base Note: Floral Accord, Tangerin.

Middle Note: Vanilla, Amber. Base Note: Musk, Powdery Accord.

Heart Note: Lavender, Fressia, Jasmine, Iris.

Top Note: Cumin, Ginger, Black Pepper, Strawberry, Pulm