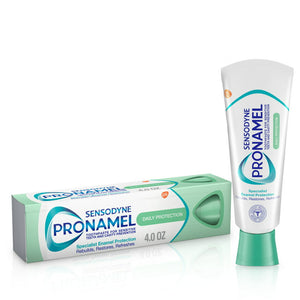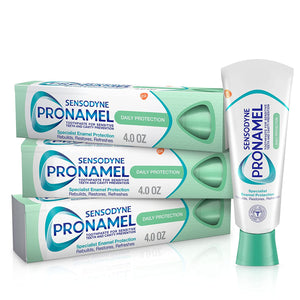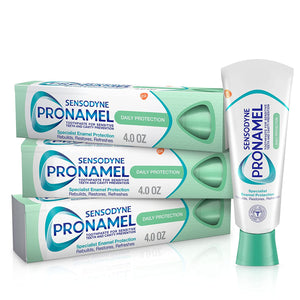 Sensodyne - Pronamel - Daily Protection - Enamel Toothpaste for Sensitive Teeth - 113 ML
Sensodyne - Pronamel - Daily Protection - Enamel Toothpaste for Sensitive Teeth - 113 ML
1 Pack

Mint Essence Sensodyne Pronamel Daily Protection Enamel Toothpaste for Sensitive Teeth, to Reharden and Strengthen Enamel

Delivers minerals directly into the enamel to protect your teeth from erosion caused by exposure to acidic foods and everyday acids

Strong enamel toothpaste that provides lasting sensitivity relief

Anticavity toothpaste that offers effective protection against cavities and improves your overall teeth health

Sensitive enamel toothpaste specially formulated with fluoride to boost the delivery of calcium for stronger teeth and to prevent further enamel damage

Mint toothpaste that freshens your breath and leaves a clean feeling in your mouth

Brush for two minutes, twice daily
From the manufacturer
What Is Sensodyne Pronamel?
Sensodyne Pronamel toothpaste is specially designed to help protect tooth enamel against the effects of acid erosion. When used twice daily, it helps to strengthen and re-harden acid-weakened enamel, fight cavities and freshen breath.
Key Features and Benefits
In addition to providing all of the benefits of a regular toothpaste, Sensodyne Pronamel:
Helps protect tooth enamel from further damage caused by acidic foods and drinks

Contains a unique optimized formulation that helps minerals, like calcium found in saliva, penetrate the enamel surface

Helps strengthen teeth, fight cavities, and freshen breath

Features low abrasivity to help limit tooth enamel erosion
How Sensodyne Pronamel Works
Sensodyne Pronamel delivers minerals deep into the enamel surface, actively strengthening and re-hardening acid-weakened tooth enamel.
| | | | | | |
| --- | --- | --- | --- | --- | --- |
| | | | | | |
| Strengthens & re-hardens enamel | ✓ | ✓ | ✓ | ✓ | ✓ |
| Restores natural whiteness | - | ✓ | - | ✓ | - |
| Extra fresh taste | - | - | - | ✓ | ✓ |
| Protects against the effects of acid erosion | ✓ | ✓ | ✓ | ✓ | ✓ |
| Minty taste | ✓ | - | - | - | - |
| #1 dentist recommended brand for strengthening and protecting enamel* | ✓ | ✓ | ✓ | ✓ | ✓ |
| Polishes away stains for whiter, brighter teeth (vs. Pronamel Daily Protection) | - | - | - | - | ✓ |
| Provides sensitivity relief (with twice daily brushing) | ✓ | ✓ | ✓ | ✓ | ✓ |