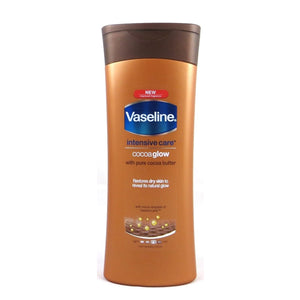 VASELINE® - Intensive Care™ - Cocoa Glow® - Lotion - 200 ml
VASELINE® - Intensive Care™ - Cocoa Glow® - Lotion - 200 ml

A dermatologist-tested Vaseline® body lotion for dull, dry skin created with pure Cocoa Butter for a long-lasting, radiant glow. Its non-greasy formula is clinically tested to deliver 90% more moisture vs. untreated skin.
This dermatologist-tested lotion for dull, dry skin, it is designed to help keep your skin looking healthy and radiant.
Contains pure Cocoa Butter, known to nourish and reveal the skin's natural radiance, and is formulated with Ultra-Hydrating Lipids to fortify the skin barrier and replenish moisture.
Provides 48 hours of moisture for noticeably healthier and hydrated skin.
This body lotion for dry skin absorbs fast for rich moisturization and glowing skin, without feeling greasy.
Clinically tested to provide 90% more skin moisture vs. untreated skin.