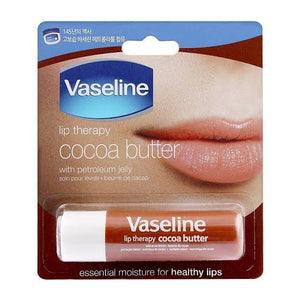 Vaseline - Lip Therapy - Cocoa Butter With Petroleum Jelly - 4.8g
Vaseline - Lip Therapy - Cocoa Butter With Petroleum Jelly - 4.8g
ORIGINAL FORMULA ENHANCED: The original wonder jelly revamped to a more heat-resistant consistency to apply more evenly on your lips and able to be carried anywhere.
NATURAL SHINE: Vaseline Lip Therapy is your solution for long-lasting healthy and soft lips designed with a formula that hydrates, relieves, and protects several layers of skin.
FRAGRANCE FREE: Free of distracting or allergy causing scents and fragrances.
VITAMIN E STICK: Vitamin E on skin is known for its restorative abilities and natural protection against harmful free radicals as well as harmful UV rays.
CLINICALLY PROVEN: Vaseline lip balm has been clinically proven to relieve cracked, damaged and dry lips. Vaseline petroleum jelly, its main ingredient, has also been restoring scraped, burned and dry skin since 1870.